Clinic infomation
Medical speciality:Internal medicine, Surgery, Gastroenterology, Allergology, Proctology
| | | | | | | | |
| --- | --- | --- | --- | --- | --- | --- | --- |
| Consultation hours | Mon | Tue | Wen | Thu | Fri | Sat | Sun |
| 8:30~12:30 | ● | ● | / | ● | ● | ● | / |
| 16:00~19:30 | ● | ● | / | ● | ● | / | / |
● 9:00~13:00 on Saturday.
Closed on public holidays.
A List of symptoms
Some representative symptoms and diseases can be diagnosed/treated are listed below.
Medical checkup
(for entrance examination,hiring, and regularly)
Chest X-ray, blood exam, urine analysis, electric cardiogram, hearing (audiometer equipped), and eyesight are available.
Vaccination
Influenza
Hepatitis B virus
Streptococcus pneumonia
Tetanus bacillus
General internal medicine
Cold, flu (influenza can be diagnosed using kit in 10 min)Nausea, vomit
Bleching
Heartburn, dyspepsia
Constipation
Diarrhea
Sleeplessness
Pain on urination, micturition pain
Heat illness
Leg edema
Internal medicine
Hypertension
Arteriosclerosis
Arrhythmia
Angina
Gout
Diabetes mellitus
Pneumonia
Bronchial asthma
Anemia
Hypothyroidism, Hyperthyroidism
Renal disfunction
Gastroenterology
Appetite loss
Heartburn
Abdominal pain
Nausea/ diarrhea
Gastritis
Gastric ulcer
Gastric cancer/polyp
Reflux (peptic) esophagitis
Gallbladder stones
Gallbladder polyp
Gallbladder cancer
Liver diseases
Hepatitis A/B/C
Fatty liver
Hypercholesterolemia
Pancreatitis
Pancreas cancer
Colitis/entiritis
Ulcerative colitis
Irritable bowel syndrome
Inguinal hernia
Surgery
Incised wound
Contusion
Graze/ grazing wound
Bruise
Eczema
Skin/subcutaneous mass
Skin/subcutaneous infection/pain
Burn injuries
Ingrowing nails
Athlete's foot
Back pain, lumbago
Knee joint pain, gonalgia
Breast mass/pain
Mastopathy
Herpes simplex
Herpes zoster (including pain control)
Allergology
Allergy sinus, Pollinosis
Nettle rash, hives
Skin itchiness
Eye itchiness
Bronchial asthma
Food allergy
Proctology
Internal and external hemorrhoids
Anal pain
Itching
Bleeding
Map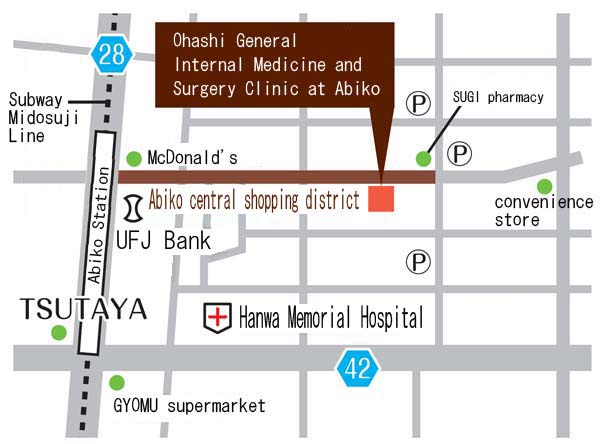 〒558-0011 7-6-28-103 Karita, Sumiyoshi-ku, Osaka 558-0011
3-minute walk from the Midosuji Subway Line "Abiko Station". Exit 1
(Located along the Abiko shopping street. In front of the "Family Mart")
No contract parking available.
Please use pay-parking nearby. Mitsui-repark on our east side,
Mitsui-repark on the north side of Sugi-pharmacy, and Just Park on our south side.
Information
| | |
| --- | --- |
| Director | Kazuo Ohashi, M.D., Ph.D |
| Medical speciality | Internal medicine, Surgery, Gastroenterology, Allergology, Proctology |
| Address | 〒 7-6-28-103 Karita, Sumiyoshi-ku, Osaka 558-0011 |
| Phone | 06-6655-1122 |
| FAX | 06-6655-1177 |
State of theclinic